Golf Tournament
WEF's 27th Annual Hugh Martin Memorial Golf Tournament a Great Success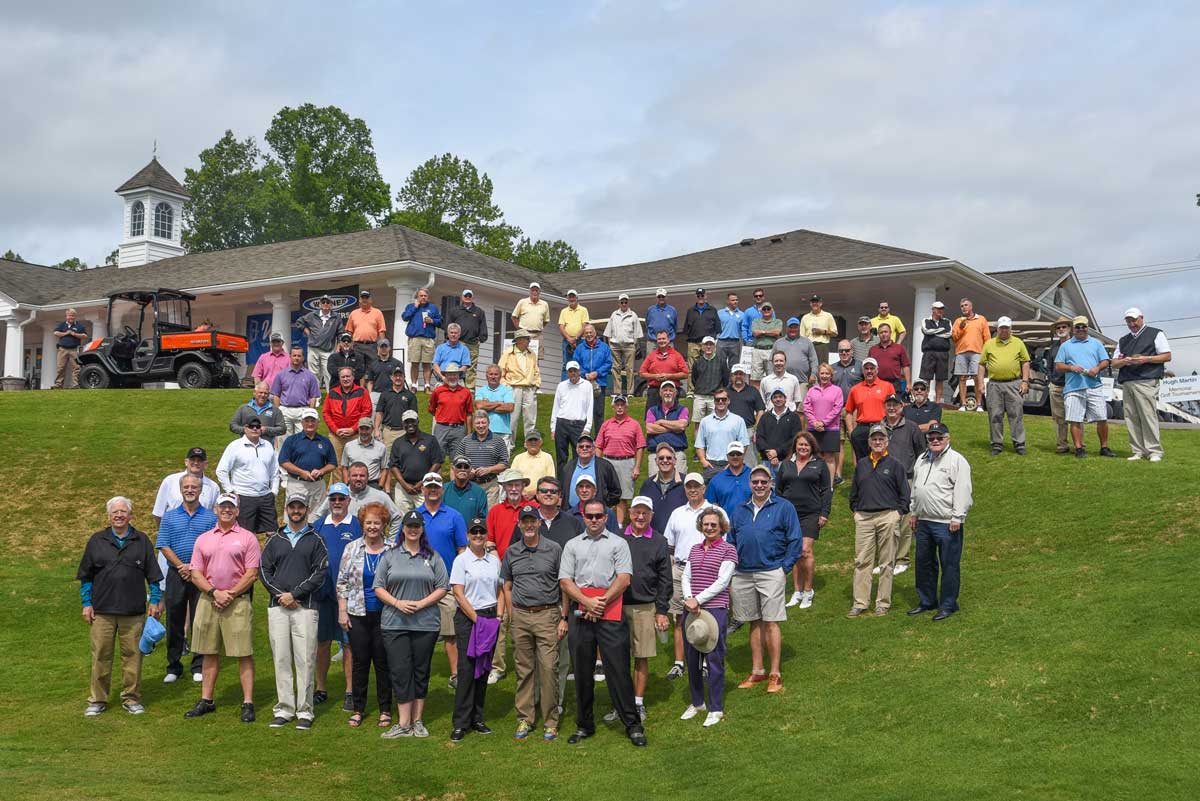 Wilkesboro, N.C. – The Wilkes Education Foundation's (WEF) 27th Annual Hugh Martin Memorial Golf Tournament was held Thursday, May 4, 2017, at Oakwoods Country Club. It generated in excess of $26,000 toward mini-grants and scholarships awarded to Wilkes County Schools' students and teachers.

The shotgun start was moved from 1 p.m. to 11 a.m. because of a forecast for afternoon rain. The earlier start proved beneficial to the 92 players who finished the tournament before the evening rain began. Since 1990, the Hugh Martin Memorial Golf Tournament has provided $419,000 in awards to Wilkes County Schools in the form of mini-grants to teachers for special projects that are not funded through the state or county. WEF has awarded additional scholarships exceeding $439,000 to Wilkes County students since its beginning.
David McNeill, chair of the golf tournament committee, said, "There are some players who have played every year, returning for the fun but also because it supports a great cause – Wilkes County Schools. I am grateful for the support of all the players, our sponsors, volunteers and the committee members who helped make this year's tournament such a great success."
The tournament was established in memory of Hugh Martin who died in April 1990. Martin was an avid golfer and had been a teacher at Mulberry Elementary and Wilkes Central before becoming a state and federal probation officer. "
He supported any event that made a difference for students," added McNeill. "Hugh always looked for the best in others. His untimely death was a reminder to his friends: 'We do not take away in life; we can only give.'"
The winners for the 2017 competition are as follows:
Low Gross
1st Place
David McNeill
Connie McNeill
Michael Beale
Dave Arendas
2nd Place
Greg Edwards
Ron Pearson
Randy Bumgarner
Ron Jarvis
Low Net
1st Place
Jack Lynch
Mark Byrd
Keith Shockley
Bob Urness
2nd Place
Doris Stroud
Dan Stroud
Neil Stroud
Marvin Byrd
Closest to the Pin
#1: Bob Urness
#8: Greg Edwards
#12: Jana Hayes
#18: Joey Stone
#1 Johnny Holcomb
#8 Greg Edwards
#12 Keith Johnson
#18 Michael Beale
Longest Drive: #13
Ladies: Jackie Mallory
Senior: Ron Pearson
Men: Ray Love
---
One hundred sponsors contributed to the event with Werner Ladder as lead sponsor. Other sponsors were Window World, cart sponsor; Carolina West, driving range sponsor; Specialty Cars, McNeill Nissan of Wilkesboro, Empire Chrysler Dodge Jeep and Empire Chevrolet Buick, hole-in-one sponsors; Larry and Diane Stone, lunch sponsors; Cam and Tammie Finley, putting green sponsors; and Arnold and Becky Lakey, dinner sponsors.
In addition to the support of the players and sponsors, the efforts of a dedicated group of volunteers make the Hugh Martin Memorial Golf Tournament possible. Volunteers assisted WEF members with many tasks for the tournament, including preparing goody bags for players, monitoring snacks and beverages throughout the event, and assisting with registration and event contests. Individuals donating their time and energy to the event were Connie and David McNeill, Doris Stroud, Marcia Reynolds, Martha Myers, Danny Holman, Don Curley, Garrin Halsch, Peggy Martin Halsch, Gordon Burns, Ron Pearson, Charles Wooten, Arnold Lakey and Mike Mizelle, who for the 19th year cooked a wonderful barbeque dinner for players and guests.
The Wilkes Education Foundation is a private, non-profit, IRS 501(c) (3) tax-exempt endowment corporation dedicated to promoting excellence in education in the Wilkes County Schools. For information about making a donation to the WEF, contact Jody Hamby, 309 9th St, North Wilkesboro, NC 28659.